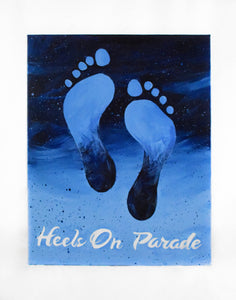 STARRY HEELS
This hand-painted piece of art is out of this world.  Painted using acrylics on premium canvas, with "Heels On Parade" titling an illustration of what it's like to have actual "heels" on parade walking on a galaxy-esque background, by one of North Carolina's up-and-coming young artists, Katy Rice. 
As featured, the background fades from a beautiful Sky Blue into the Navy of the night, a gradient transition, with each layer dazzled with specks of perfection throughout.  
Painting is 18' x 24' and is numbered by individual piece, as ordered. 
Please allow 2-3 months from order date to completion, as this piece is made with true hand-craftsmanship. 
Note: Additional sizes are offered, and will restart the numbering process. Price will be adjusted accordingly.